The Programme for the World Congress of the Irish Race, Paris, 1922 announced:
"On this evening – Jan 27 – the Delegates and Visitors of the Aonac na nGaedael are invited to the presentation of "Riders to the Sea" and "The Rising of the Moon" in the Salle Hoche, by the Dramatic Section of the Irish Club of Paris, followed by Grand Ball."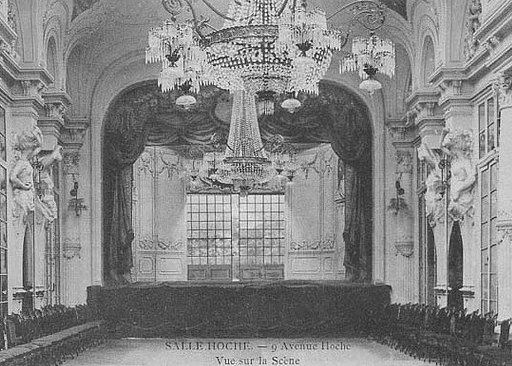 On Friday, 27th January there was an evening of Irish theatre staged for the attendees. Two plays were performed, The Rising of the Moon (1907) by Lady Gregory and Riders to the Sea (1903/4) by John Millington Synge. The former is a short patriotic play, dealing with conflicting loyalties in Anglo-Irish relations; Synge's work is also a one-act play, a tragedy set on one of Aran Islands (Inis Meáin) in the West of Ireland.
Both plays were written in English and examples of what W.B. Yeats described in his lecture to the Congress, as 'perfumed with an Irish idiom', the play employs a dialect derived from the rural West where people spoke a form of English with sentences constructed in the structure of the Irish language. Synge's play deals with the island's inhabitants struggle against the brutality of the sea. They were performed by an amateur Irish drama group based in Paris and billed as the 'Dramatic Section of the Irish Club of Paris'. These plays were chosen to represent a view of Irish society that was rural, distinctive and unique. Irish theatre had a global reputation and in Paris the Irish State was happy to show it off to the world.