Lectures on Irish life and culture
In addition to the art exhibition, and the theatre and musical events, there were ten lectures delivered during the week of the conference by 'eminent Irish authorities' who were recognised experts on the Irish language, literature, religion, music, history, industries, economic, athletics, art industries and visual art. Each speaker who travelled specifically to deliver a paper was paid £40 expenses by the Irish Department of Foreign Affairs. These were 'valuable and instructive contributions towards the entertainment of the delegates'. All the presentations were nationalistic and in-tune with the leitmotif of the Congress in distinguishing Ireland from Britain, portraying the Irish as a gifted race steeped in an ancient history and possessing of a unique culture.
In a response to the lectures of 1922 the Centre Culturel Irlandais, Ireland's cultural flagship in Europe, have invited a number of Irish experts to speak on topics of concern today. These lectures will be podcast and are available here.
---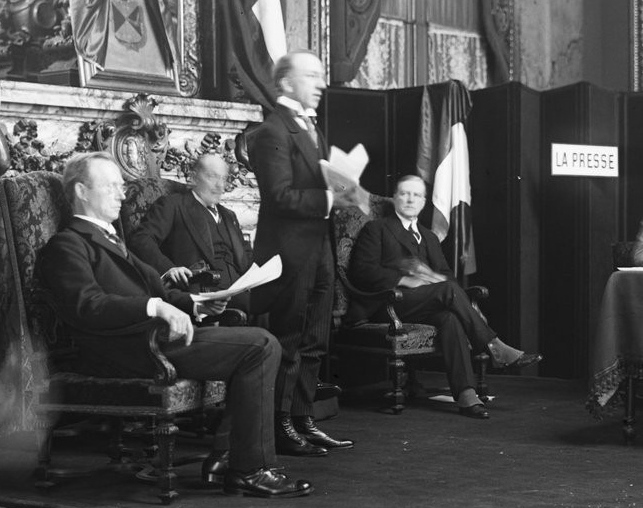 W. B. Yeats' paper on Irish literature, 'Lyrics and Plays of Modern Ireland', spoke of Irish history being transformed in 1916 by lyric poets. He detailed the Irish Literary Revival and he name-checked Lady Augusta Gregory, Padraic Colum, and James Stephens – and James Joyce. Yeats stated one of his reasons for attending and delivering his lecture was that he wished 'to identify the Abbey with government propaganda'. His lecture covered the founding of the Abbey and listed dramatists associated with the group, including Lady Gregory and Lennox Robinson, and John M. Synge who he cited as Ireland's greatest playwright, validating them internationally by claiming 'all [were] well-known in London and the USA'. Yeats also made reference to a nationalist play he wrote with Lady Gregory, Kathleen Ni Houlihan published in 1902 and produced that year at the Abbey Theatre. The play was 'often cited as a moment when ideas of romantic nationalism radicalised a generation of rebels who would end up in the GPO in 1916' by historians. However, Yeats denied this suggestion in this lecture as he did in his late poem, Man and the Echo (1938). Furthermore, Yeats defended/ justified Irish authors writing in English (as opposed to Irish), as being 'perfumed with an Irish idiom'.